Our Olympic Bars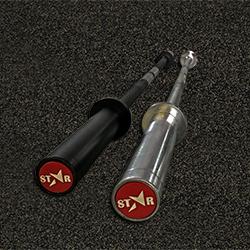 Our Olympic Bar is built from high-strength steel by a tensile strength rating of 165,000 PSI in order to hold up toward the severe demands of exercise and heavy Olympic bar training in viable gyms.

Highlights:
Available Sizes: 3", 4", 5", 6" & 7"
Available Materials: Hard Chrome, Nickle, Black & Stainless Steel
Best Finishing
An exclusive feature of Olympic bars in different standard sizes of 3 ft, 4 ft, 5 ft, 6 ft and 7 ft is the rubber end caps, otherwise bumper caps, which not only defend the sleeve assemblage from unpredicted impact however help protect floor finishes from scrapes and scuffs if stood up upright.

The attached barbell collars feature rubberized rings which creates the Olympic bar easy toward recognize from far expanses and add additional layer of defense to floors while bars are resting straight. A beefy diameter gripping region with middle diamond knurling, counting center knurling, make this a widespread Olympic squat bar plus Olympic bench press bar by the extensive diameter aiding to more consistently distribute the load through the palms of the hands while pressing plus likewise the neck plus shoulders while squatting.

For heavy squatters, the middle knurl works toward hold the bar in place without letting it slide through your set. And to make certain the finish is hard wearing to stand up to years of re-racking plus plate loading, the shaft and sleeves are electroplated in durable chrome.

These bar would resemble a powerlifting bar actual closely, excluding that they permit for things like spin using high excellence bearings in the sleeves.

The cause for this spin is so as to the bar could have a clean whip before the lifter does a snatch otherwise clean and jerk. Because of these movements, the Olympic bars moreover use less knurling since the bar will frequently end up resting on the lifter's upper chest, which they do not want getting cut up from profound knurling.

With the spin of the sleeves and the flatness of the barbell, the lifter could get up underneath the bar rapidly and effortlessly.

For balance plus long-lasting performance in your weightlifting set, turn to the Weight Bar. It is perfect for use at home otherwise in the gym or health club. This exercises weight bar is made of high-quality steel, plus its chrome finish provides it a smooth plus polished look. This rugged bar will be an excessive help in diverse kinds of exercises ranging from simple weightlifting to more compound routines.

The bar features diamond knurled hand grips plus rotating sleeves, providing a larger grip for better performance each time and decreases any chance of your hands sliding from the bar in the mid of a routine. It has a weight volume of 500 lbs and an extent of 60". This Olympic bar can house 2" plates for aperfect exercise session. If you're in search of a training accessory to aid you quickly tone numerous muscle groups in your body, turn to our Olympic Bar.