PVC Floor Mat-Virgin-PVC Interlocking Tiles Flooring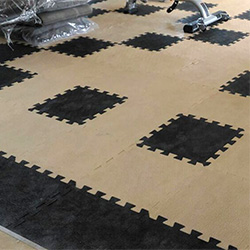 PVC Floor Mat-Virgin-PVC Interlocking Tiles supple, sturdy, non-slip tiles are outstanding for numerous industrial plus commercial spaces, in addition to sports plus leisure facilities. PVC tiles offer an artistic floor that can be color-designed almost entirely to clients' necessities plus are 100% recyclable. Distinct printing is moreover possible to aid clients' sales plus/or image.

Perhaps the maximum benefits of pvc flooring tiles are in their easiness of installation. Not merely can they frequently be laid straight above a current floor, however, we could carry out the work with minimal otherwise no interruption toward the client's activity. For clienteles operating 24/7, that is good news.
There is a diversity of benefits that come with installing Virgin-PVC flooring in your home-based. These are the similar tried and accurate characteristics that have been advertised by PVC flooring shops and suppliers.

Little maintenance:

PVC flooring is comparatively easy toward care for. You have to make sure that grit plus dirt are kept swept free toward maintaining the surface of the floor. Then, you could use a damp mop plus an approved PVC floor cleanser to eliminate stains. But few flooring choices are as easy toward care for as PVC.

Coziness underfoot:

PVC does not get icy in the winter plus is usually softer under your feet than wood otherwise ceramic tile floors some PVC tiles moreover have a padded under layer that can create walking on these floors even further comfortable.

Sturdiness:

PVC is usually considered to be an extremely durable material that, if correctly installed plus maintained, can last up to ten to twenty years. Though, the quality of the stuff that you are buying and the means it was manufactured will decide how well your floor continues over time.

Stain resistance:

Virgin-PVC interlocking tiles have a clear wear coating that acts as a surface fence, defensive the floor from stains plus spills. These materials are easy to clean plus maintain. Solid plus composite PVC tiles do not have this surface defense and will be more vulnerable to stains, needing occasional stripping as well as polishing.

Easiness of installation:

Virgin-PVC interlocking tiles, are comparatively easy to install. However, you do have to confirm that you have a dry, level subfloor. It is likely to do this project yourself. However, you might want to have a proficient make the subfloor for you.