Kids Play Area Rubber Tiles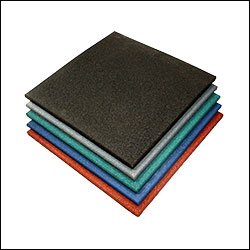 Kids love to play as well as run outside in playgrounds. Maximum of the playgrounds are either prepared of concrete, asphalt otherwise of soil. In case of concrete plus asphalt playground flooring there is actual high risk of injury plus falls through play. Our exclusive diversity of playground tiles offers comprehensive protection and softening effect against slips plus falls.
Our distinct playground rubber tiles available in V-Groove and Interlocking are prepared from standard excellence of recycled rubber which not merely protect alongside any wounds but is moreover durable, hardy, and water resistant as well as UV rays resistant. This enhances to the finish of playground security tiles as well as they keep their colorimproving the beauty of your outside playground. For soily or muddy play areas make use of our playground tiles which decisively fix to the muddy surface creating it non-slip plus water resistant. These playground tiles are accessible in diverse sizes and are easy toward fix, install plus maintain. Our playground rubber tiles allows you to create a safe atmosphere for your kids.

Kid Cushion Playground Tiles are factory-made from durable plus resilient recycled rubber creating them the favored choice for commercial play area professionals and so far the unique design and easiness of installation creates them easy to install in a courtyard playground.

Our playground tiles are accessible in a diversity of solid, spotted and EPDM colors to encounter the needs of the most astute designers and to offer a fun and gorgeous play space.

Kid Cushion Playground Surface Tiles are the perfect playground surfacing to defend children from disastrous head injury that might result from falls under plus around playground apparatus.

Safety play surfaces are vital for any backyard play area. Rubber tiles for playgrounds are the easiest plus most effective means to confirm that your children are finest prevented from head plus playground apparatus injuries. To sift over multitudes of playground surface concepts, select a product that is highly commended and innovative — for example rubber tiles. Building playgrounds might sound like a job for installation experts, however with this guide you will have no distress installing your own courtyard adventure park similar a professional!