Interlocking Rubber Floor Tiles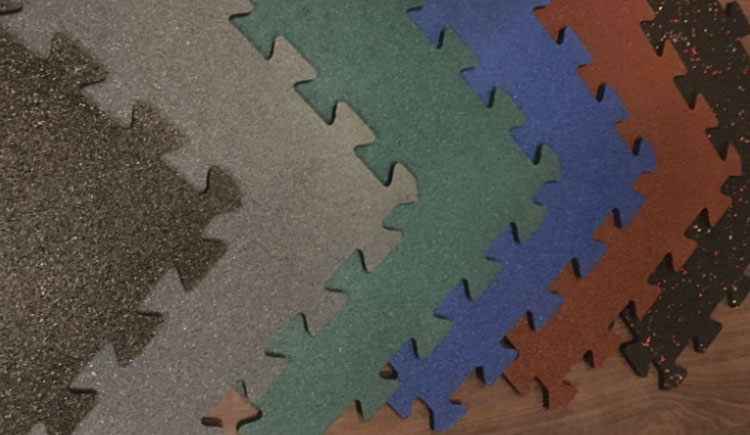 Interlocking rubber floor tiles signify a tremendously popular flooring choice for home gyms plus weight rooms. These kinds of floors moreover work well for weight lifting rooms in schools otherwise small sporty studios.

For any weight room exercises, the flooring must endure the rigors of machinery and weights. We offer just the correct product by its interlocking square rubber tiles that are accessible in two thicknesses (10mm and 15mm) measure practically 20 inches by 20 inch exclusively. These easy-to-install tiles proffer a smooth, non-slip surface with long-term sturdiness, meaning they will provide an excessive value over the long term, which clarifies why they're several of our best-selling rubber products.
The clear rubber flooring titles in our scheme feature tight-fitting layers. This feature works flawlessly for a floor intended for sporty use since those partaking in the class otherwise game won't trip over any visible seams or rough parts of the floor. Furthermore, since the tight seams fit together flawlessly, you don't have to concern about debris gathering at the seams.

Those seeking sturdy flooring for usage with home gymnasiums, basement floors plus garages will gain our interlocking rubber titles. As you could see in the client reviews at the bottom most of the page, numerous of our clienteles love having this kind of floor in their home-based exercises areas.
These interlocking tiles offer some resistance to numerous kinds of chemicals, counting alcohol, ammonia, bleach, antiseptic and human sweat. Would any of these materials end up contacting the rubber tiles, clean it up as rapidly as likely, and you should not see any physical injury. Moreover, our hard tiles should not experience any color variation if they derive in contact with any of these chemicals otherwise substances. Be sure not to use them in automotive regions, though, as automotive fluids could break down rubber resources. Our tiles are partly non-absorbent, which aids them to resist odors.

Distinct other kinds of rubber flooring, our interlocking rubber tiles produce practically no rubber odor. We create our rubber tiles with a urethane tie agent that limits the aroma produced. This establishes them a perfect choice in a home basement otherwise garage, which may have restricted air flow.