Gym Flooring |Gym Rubber Tiles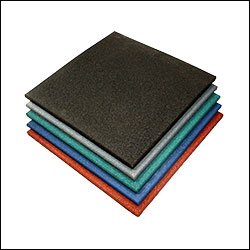 Gym flooring tiles used in most commercial and home gyms. Gym floor tiles are vailable in different thickness options and color to suit your needs and provides both high performance and aesthetic appearance in the gyms. Within the previous two decades health plus fitness have actually taken off in the entire world. Going to the gymnasium has converted an essential part of life for zillions of peoples. Gyms now a days are not just located in commercial sites. Fab Floorings India appreciates this fit trend, which is why we proffer a varied line of gym rubber flooring products in V-Groove, Paper-Cut and Interlocking that offer the essential floor defense against scrapes from heavy stuffs. Rubber flooring for gymnasium applications can more over aid offer improved levels of comfort as well as traction for high power workouts. We produce best quality gym floor tiles in black, grey, blue, green & terracotta in 10mm, 15mm & 20mm in 3 styles i.e. V-Groove, Paper-Cut & Interlocking for commercial and home gyms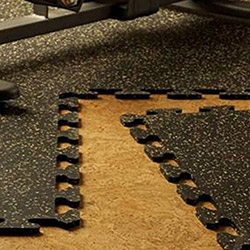 The most significant cause for using gymnasium rubber flooring is for floor defense. Both the current surfaces of your exercises area and the apparatus requisite to be protected. Gym apparatus tends to be actual heavy and prepared of a mix of plastic plus metal, so it is essential to place them on gymnasium apparatus tiles. Without exercises floor tiles in place, the sheer weight of these machineries can grind down on delicate surfaces and reason damage in the form of staining, markings, as well as serious cracks. Woody flooring that absences any kind of protecting gym rubber flooring is very susceptible to such harm.
Even apparently hard surfaces similar concrete can suffer a grade of degradation. Though, damage could go both ways; suitable gymnasium rubber flooring more over offers two-fold defense for both machineries and flooring because of its shaking ablative properties.

Exercises apparatus could suffer harm on bare floors that absence rubber sporty surfaces. Some machineries vibrate a lot otherwise make hard contact by the ground and the resultant friction can harm a machine. The price of repairing harm to both current surfaces and workout equipment could be very high, which is why we commend using rubber gymnasium equipment floor tiles.