Kids Play Area Flooring PVC Interlocking Tiles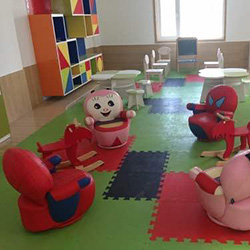 PVC playground tiles are an additional popular choice for kids play area flooring, indoor plus outdoor playgrounds. Favored for their flexibility, you can buy tiles in different rigidity levels. The softer tiles, which are supple, offer outstanding cushion that creates a comfy surface.

Since PVC tiles give off much less aroma than numerous rubber flooring choices, they're often used for indoor installations. Though, PVC tiles are moreover appropriate for children's play area flooring outdoor usage, since they're waterproof and have an upraised base. Some PVC playground tiles are even UV treated. However other raw tiles are still UV steady for seven years.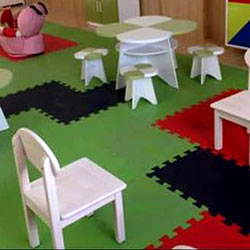 PVC tiles that are envisioned for outdoor usage are typically perforated. Thus water flows over the tile, rather than pooling on the surface. The perforation plus the elevated base design promotes optimal air circulation which aids to rapidly dry out the tile, stopping the growth of mould plus mildew. The perforated tiles are moreover often used in basements or garages, wherever condensation, as well as leaks, might be a concern.

For inside use, PVC tiles by a solid surface are an excessive choice. These tiles typically have an added feel to improve slip resistance as well as upsurge safety.
If LEED points for your scheme are a concern, there are several PVC options which are prepared of reprocessed materials. Available in diverse colors, counting white and black, these tiles are appropriate for temperatures reaching from 22 degrees Fahrenheit to 104 degrees Fahrenheit. They are prepared from Virgin-PVC resources and could contribute to LEED points for your project.

PVC playground flooring tiles do not need any adhesives, so installation is simple as well as DIY-friendly.

PVC playground flooring tiles have ramped boundaries available to decrease tripping hazards. The staff at Fab Flooring India know that your children come first, and we are happy to offer a diversity of products toward improving the security of your facility, however, keeping you inside your budget.